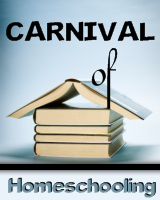 If you haven't checked out the Carnival of Homeschooling before, you'll want to stop by Hal and Melanie Young's blog, Raising Real Men, and check it out. You're sure to find some new ideas and encouragement. Maybe you'll even be inspired to join in the next issue!
Here's a free printable that might make grocery shopping with the kids a bit easier. Keep them occupied with Grocery Store Bingo.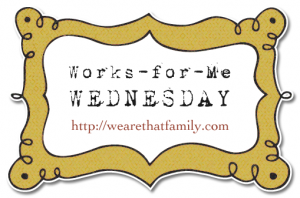 Are you having trouble getting your kids to write? Here is a great list of resources to help you out.
Happy Writing!
Free homeschool helps work for me! To see more Works for Me Wednesday tips visit We Are That Family.
I've recently been checking into the resources our library has to offer and I was really surprised at all of the databases we can access. Some need to be accessed from the library, but others can be accessed from your own computer, with a library card. There are some really great homeschooling resources. I found them by visiting our library website and then clicking a link that said "Research Tools/Databases". Hopefully, your library offers something similar. Below is what our library offers.
Ancestry Library – census, vital records, church, court and immigration records.
Auto Repair Reference Center – Repair manuals and wiring diagrams.
Biography Reference Center – Collection of full-text biographies.
Consumer Reports – Product reviews and ratings.
CultureGrams - Maps and in-depth information on 187 countries and all the United States.
HeritageQuest Online – Genealogical collection of federal census records, source documents, and much more.
History Reference Center – World's most extensive full-text history reference database.
Literary Reference Center – Information on thousands of authors and their works.
Mango – Online language-learning system that teaches actual conversation skills for 22 different languages and includes ESL.
NoveList – Suggestions, lists and the next in a series for fiction books.
NoveList K-8 – Everything for children's fiction needs.
OverDrive – Download audio books or ebooks and play it on your computer, MP3 player or cell phone.
Points of View – Provides users with a series of essays that present multiple sides of a current issue.
ProQuest – Searches over 2,000 magazines and journals.
Referencia Latina – Spanish-language database.
Student Research Center – Obtain info from EBSCO databases.
World Book Encyclopedia – Online version with articles, maps. photos, charts and audio/visual clips.
Using the library works for me. To see more Works for Me Wednesday tips visit We Are That Family.
Saving Dollars and Sense has put together such a great list of sites with report card rewards that the best I can do is send you on over! She not only lists a good selection of freebies, but also has a list of links to free printable report cards for us homeschooling family.
Enjoy!