My husband has always complained about my stinky kitchen rags and sponges. He's a chef and teaches sanitation courses, so this is one subject that is near and dear to his heart. He'd say I was going to make the whole family sick…which hasn't happened to the best of my knowledge. The problem being,  those darn kitchen rags turn "sour" in just a day or two….I just didn't have enough rags or motivation to continually replace them to keep ahead of the stink.
One day, I had a brilliant idea…of course, why didn't I think of this sooner?!?!? Way back, before children, I had a budding career as a waitress. EVERY restaurant I worked, ALWAYS had  a bleach bucket where the rags where stored in between uses. This not only solved the stink problem but the germ problem as well!
So, I grabbed a decorative, small, ceramic flower pot, and VOILA!…I had my own little (pretty) bleach bucket right next to my kitchen sink. No more stinky rags or sponges! When I'm not using them I just toss in my little STINK-FREE pot. I have to admit, I don't change the water/bleach each day, like we did in the restaurant, but it usually stays bleachy fresh for about three days straight. And when it's time to refresh the water, I just replace the rag. Another added bonus is, the "old" rag doesn't stink in your dirty laundry while waiting it's turn to be cleaned….in my house, that could be a week.
I've been at the Grocery Game now for about three weeks and boy is it paying off! My cupboards are more full than ever….and I spent half the money! Last night, my sister (one of my grocery game partners) and I spent an hour and a half, planning our "game". We went to the store and what a thrill! I bought $350 worth of groceries for $100. This included things like half and half, 24 lbs. of Tillamook cheese, an 18 lb. Turkey, 12 boxes of chex's cereal, 25 lbs. of flour, 3 bags of chocolate chips, 2 gallons of milk, 10 lbs. of potatoes, artichoke hearts, 4 cans of evaporated milk and a few other things I can't think of right now.
You can seriously save a lot of money doing this, IF you are willing to spend some time planning it out. It makes going to the store FUN! My sister and I feel like we are going on a scavenger hunt when we go shopping now.  Saving the money is just the added bonus to the "game".
I just came across this article about how to make a Heat Catcher with simple household materials such as aluminum foil, black paint and some duct tape. You put these in your south facing windows and can hide them behind drapes (so as to not lose light in your house). The lady who wrote the article claims that it cut her winter heating bills in half! She describes how to make it in the article. Might be a good homeschool project for the kids to try and save some $$$ at the same time!
Link to Homemade Heatcatcher article: click to read article

Take a look at this video. Makes a lot of sense to me. Makes you want to be sure your child is looking at more than just money as they're making career choices, doesn't it?
Along the same lines…our local paper just had an article on teens that had completed a senior project that involved shadowing someone in a career they were interested in. Interesting, several students realized they did not care for the career at all, after just a few days shadowing. For instance, one young man, interested in working for Game and Wildlife realized he didn't like confrontation with people and decided to go into Fire Science, instead.
I think this goes to show that the more practical experience and apprentice-type situations we can provide for our children, the better decisions they can make about their long term goals.
One down, four to go! lol
Brad graduated today, magna cum laude, from Eastern Washington University. He received an award for Outstanding Senior in the Criminal Justice Program.
There were a LOT of kids. And we were FAAAR away.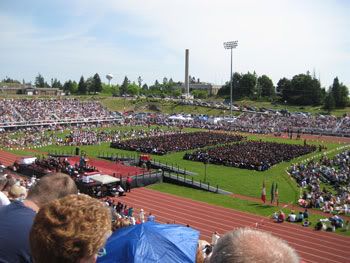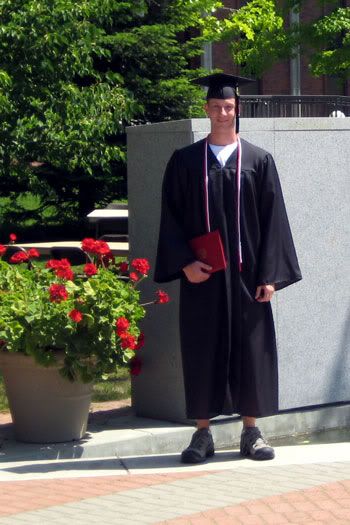 And two weeks ago, he got married!
A good month!